Over 400 pairs of unfilled shoes lined up outside of Limerick City Hall today to demand government attention for the ongoing climate crisis.
The pairs of empty shoes were representative of the 400 or so activist unable to make the protest due to Covid-19. Protestors that were present and accompanying the lined up shoes argued that the same level of urgency was needed for climate action as has been given for Covid-19.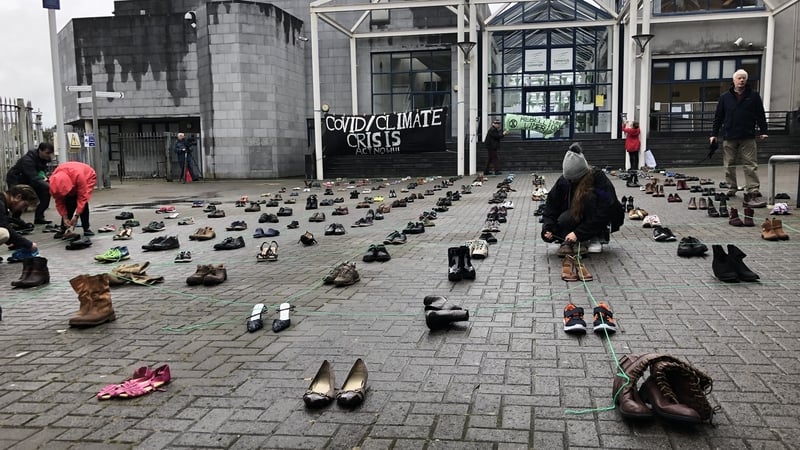 The protests run by Extinction Rebellion Limerick and Fridays For Future utilised green string which attached every pair of shoes to represent 'green strings attached' to any industry bailout, demanding companies looking for public money during the current economic recovery to commit to binding emissions reductions targets.
Protestors frm the Rebellion said:
"Ensure that all COVID economic relief measures have green strings attached. Listen to science and include climate mitigation criteria in every policy decision and measure (transport, energy, housing, agriculture, city planning).
"Ensure climate change mitigation measures are included in Guiding Limerick through COVID-19 implementation plan and empower citizens to live low-carbon lives."
Demonstrators have welcomed shoe donations for the event, and have committed to re-donating the shoes to charities or sent for recycling after the protest.
Unrale work from the Extinction Rebellion Limerick and Fridays For Future teams! Here's to hoping will see some government action on the climate crisis ASAP!