For the second night in a row, singer and Irish legend Luke Kelly has endured the brunt of more anti-social behaviour. Two sculptures of Luke Kelly created last year to mark the Dubliners singer's 35th anniversary were vandalised overnight.
The Dubliner's statue on the corner of Guild Street and Sheriff Street had white gloss paint splashed all over both sides around 11 pm yesterday. This will now be the statues sixth time being vandalised since being unveiled 18-months ago. This morning, more damage was found to sculptor John Coll's Luke Kelly statue on South King Street on Dublin's Southside was also ruined with white paint overnight.
Sculpturer Coll correlated the incident with a lack of pedestrians that would have normally acted as the statues protectors. He suggested that the current environment we are in gives way to such behaviours as fewer people are around to hold others accountable.
However, a Garda spokeswoman said: "Gardaí are investigating an act of criminal damage to a statue which occurred on King's Street, Dublin in the early hours of the 24th June 2020. No arrests have been made. Investigations are ongoing."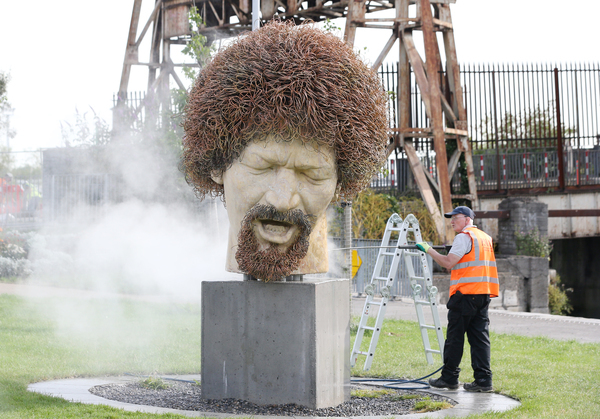 Fans have swarmed to Twitter expressing their anger and confusion over the on-going vandalism, querying the intent behind the disrespect towards the Irish icon.
I'm taking personal offence to this Luke Kelly was and still is one of the best talents Ireland ever seen. https://t.co/A2qFkHzLf6

— Anna McLaughlin (@AnnaMcL75641442) June 24, 2020
Others were able to find some humour in the clean up of the statues drawing attention to the uncanny look-alike of Mr Kelly being woken up mid-wash!
The only good thing about the Luke Kelly statue getting vandalised, is that these photos always look like they're waking him up pic.twitter.com/Z1WG9oEazU

— b (@goddammitbrian) June 24, 2020
North inner-city councillor Christy Burke said the latest vandalism was "an act of thuggery" but he doesn't believe the statue should be relocated.
He told Newstalk: "Maybe it's time for a community 24-7 watch, given the fact we can't have a permanent Garda Síochana post.
"At the end of the day, it's a disturbing, sickening act to wake up to this morning."
Hopefully going forward we can implement higher security measures and stop future 'thugs' from vandalising more national treasures. Keep your eyes pealed kids!👀