If you ever needed a reason to respect working mothers, look no further than this adorable and comically inspiring moment between mother and daughter during a video call interview with the BBC😂
Global Health Policy expert Dr Clare Wenham was giving an interview to the BBC News Channel last week when her daughter Scarlett decided to make a memorable appearance on live television.
The working Mom showed admirable multitasking skills when she carried on her with her interview while her daughter was pre-occupied trying to solve the mystery of what shelf to put her unicorn picture on 🤔
BBC reporter "Christian", demonstrated his parental skills giving the toddler advice as to where to place the unicorn picture! (However, we agree with your choice Scarlett 😅)
Twitter users shared their appreciation for working moms along with ITV Presenter Mary Nightingale tweeting,
"HUGE respect to multi-tasking marvel and Global Health Policy expert Dr Clare Wenham – juggling interview with @christianfraser on @BBCNews while wrangling lively daughter Scarlet. #MumPower"
Others were keen to comment on the interviews positive example of normalising real-life scenarios and thanked the BBC for making it okay to chat with children.
Dr Clare Wenham commented on the interview that she and her daughter had, admitting they had since successfully chosen a shelf for the much-debated unicorn picture. She also thanked the BBC for showcasing the reality of working from home amidst Covid-19.
"We've decided on a shelf for the unicorn. Thanks to all for kind words normalising the work-parent balance that so many are juggling amid #covid19 chaos".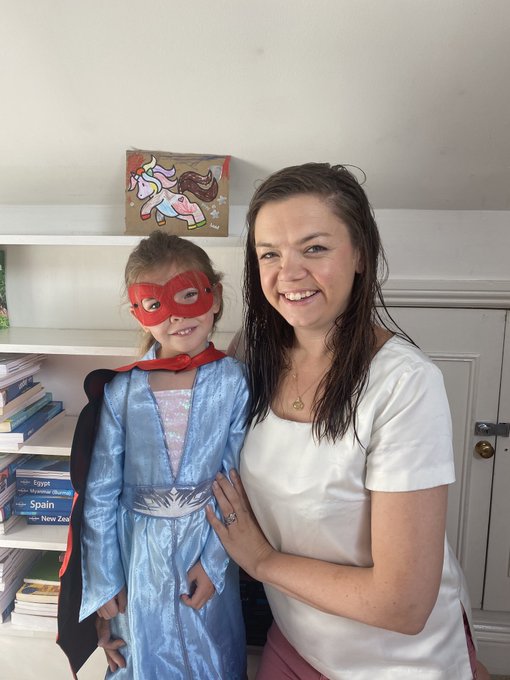 Thank you, Dr Wenham, for normalising the chaos that comes with working from home and thank you daughter Scarlett for gracing us with your energetic presence, we all need a dose of reality every once and a while!😂🥰